GRAFIX◊ Cryopreserved Placental Membrane: Prospective RCT shows significantly higher closure rates versus standard of care for diabetic foot ulcers6-7
In an assessment conducted by the National Institute for Health and Care Excellence (NICE) evaluating the quality of data for dermal substitute studies in diabetic foot ulcers, this study had the highest overall effect. GRAFIX Membrane was the only dermal substitute determined to have high quality of evidence with no serious risk of bias.
---
Study overview
Prospective, 20-center, randomized, single-blinded, controlled trial*
Third-party blinded image verification
Results
Significantly higher complete closure rate: (62% versus 21%)
Faster median time to complete closure (42 days versus 70 days)
Decreased number of treatments (6 versus 12)*
Fewer wound complications (44% versus 66%)
Fewer wound-related infections (18% versus 36%)
65% complete closure in the open-label crossover phase for patients who previously failed with standard treatment in the control group
Fewer infection-related hospitalizations (6% versus 15%)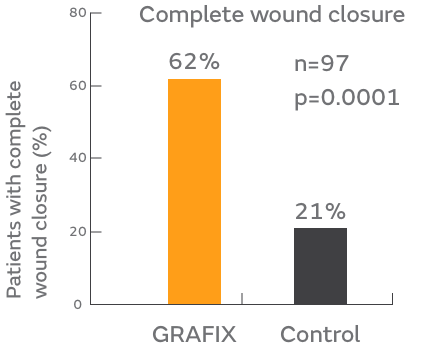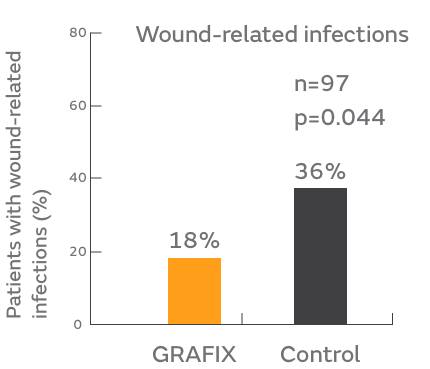 ---
Consideration
At the pre-specified interim analysis, study enrollment was terminated at the recommendation of the blinded review committee due to the efficacy of GRAFIX Membrane versus the control
*Trial had three phases: 1) a blinded phase of treatment with weekly GRAFIX (n=50) versus treatment with standard of care alone (n=47) with a primary endpoint of 100% re-epithelialization by week 12, 2) a follow-up phase with visits every 4 weeks for an additional 12 weeks, and 3) an open-label phase where patients in the control arm failing to close after 12 weeks were given the opportunity to receive GRAFIX for 12 weeks.